Ingredients
2 ounces

Linguine

dried linguine or any kind of pasta you prefer

4-5 Gloves

Garlic

Chopped and Minced

2-3 pieces

Shallot

Chopped and Minced

A little bit

Parsley

Cilantro is ok! As a garnish
Directions
From a group buying program on wechat, I bought 5 lb of refresh Sea Urchin, I was planning to make raw sea urchin Don, but since when I opened up them, they didn't look as fresh as I thought, only a few pieces I could get whole and completed ones. Unfortunately, I have to use them to make something doesn't require a beautiful whole piece of sea urchin, I think Uni Pasta (Sea Urchin Pasta) could fulfill this purpose!
The recipe is very easy, and you can make the dish less than 10 minutes. I love the texture of sea urchin and also the creamy taste. Let me show you how to make this dish now!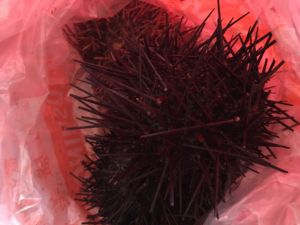 Ingredients:
Garlic – A few gloves chopped and minced
Shallot – two or three pieces chopped and minced
Sea Urchin Roe – ½ cup
Butter – 1 TBSP
2 ounces dried linguine or any kinds you prefer
Lemon – 2 TBSP juice
Sea Salt – a pinch
White pepper – a pinch
Parsley or Cilantro – a little bit, as your own preference
Recipe:
Cook the pasta in a large pot of boiling salted water until fully cooked and drained
At the same time when you are cooking the pasta, you can start making the Uni (sea urchin) sauce. Heat a small pot and put in the butter until it melts, and then put in minced garlics and shallots.
Cook them until shallots become transparent, and then cook a little bit longer until garlics become a bit brownish. Now it's the time to put in sea urchin, since my sea urchins already break into small pieces, I don't need to blend them, but if you sea urchin is very fresh and all are big pieces, you need to blend a little bit from blender.
Cook the sauce and add water little by little until it reach the consistence you are looking for, season with salt and white pepper, and now turn off the heat.
Add the sauce, chopped cilantro into the drained pasta, and mix well. Gently toss the pasta with the sauce.
Squeeze about 2 TBSP lemon juice and then mix well
When serving the pasta on each plate, on the top of the pasta to garnish and also add more flavor, please put whole piece raw Uni (sea unchin roe), and serve immediately.
Tips:
To garnish, please select the most beautiful pieces to put on the top of the dish.
I added a lot of cilantro into my dish, since I like the flavor and also add the green color into the dish.
(Visited 49 times, 1 visits today)
Click here to bookmark this
Steps
| | |
| --- | --- |
| | Cook the Linguine/pasta in a large pot of boiling salted water until fully cooked and drained |
| | At the same time when you are cooking the Linguine/pasta, you can start making the Uni (sea urchin) sauce. Heat a small pot and put in the butter until it melts, and then put in minced garlic and shallots. |
| | Cook them until shallots become transparent, and then cook a little bit longer until garlic become a bit brownish. Now it's the time to put in sea urchin, since my sea urchins already break into small pieces, I don't need to blend them, but if you sea urchin is very fresh and all are big pieces, you need to blend a little bit from blender. |
| | Cook the sauce and add water little by little until it reach the consistence you are looking for, season with salt and white pepper, and now turn off the heat. |
| | Add the sauce, chopped cilantro into the drained pasta, and mix well. Gently toss the pasta with the sauce. |
| | Squeeze about 2 TBSP lemon juice and then mix well |
| | When serving the pasta on each plate, on the top of the pasta to garnish and also add more flavor, please put whole piece raw Uni (sea unchin roe), and serve immediately. |